Microlight Projects
Microlights (or ultralights as they are known in the US) are possibly the most basic form of aircraft that can be flown. In the UK, Microlights are regulated by the UK CAA and are approved under a 'permit to fly'. There are two basic forms of Microlight, the three axis type and the flex wing type. The code to which they are designed and built to in the UK is BCAR Section S.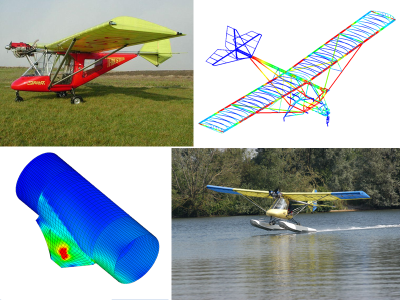 Leon Eversfield has been Chief Designer for the Thruster microlights since 1996. During that time every nut, bolt, bracket and component on the aircraft has undergone a reassessment as the Aircraft Maximum Take Off Weight (MTOW) increased from 390Kg to 450Kg. Along the way various Modifications have been approved by the UK CAA including new wing skins, engine, propeller and composite enclosed rear section.
Initially under the stewardship of Gordon Pill in Oxfordshire, Gordon sold the company in 2006 to a partnership in Wickenby, Lincolnshire. Leon was invited to continue in the role of Chief Designer which he accepted.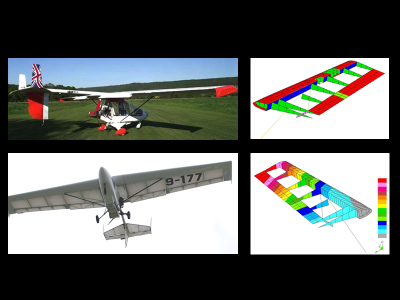 Performed investigative wing modification structural analysis for the CFM Shadow.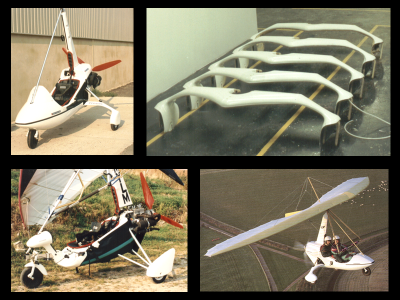 In the early 1990's Aeromechanics provided engineering support for the production of the Solar Wings Quasar flex wing microlight undercarriage. Hybrid Composites Ltd, (HCL), a sister company to Aeromechanics manufactured the all composite undercarriage units under HCL's CAA A2 composite manufacturing approval.
During 1994 Leon Eversfield was appointed Chief Designer at Solar Wings Aviation Ltd in Wiltshire when the Late Keith Duckworth of Cosworth fame started the company. The key effort at that time was the redesign and lightening of the Quantam flex wing trike undercarriage shown in the bottom left hand picture opposite.